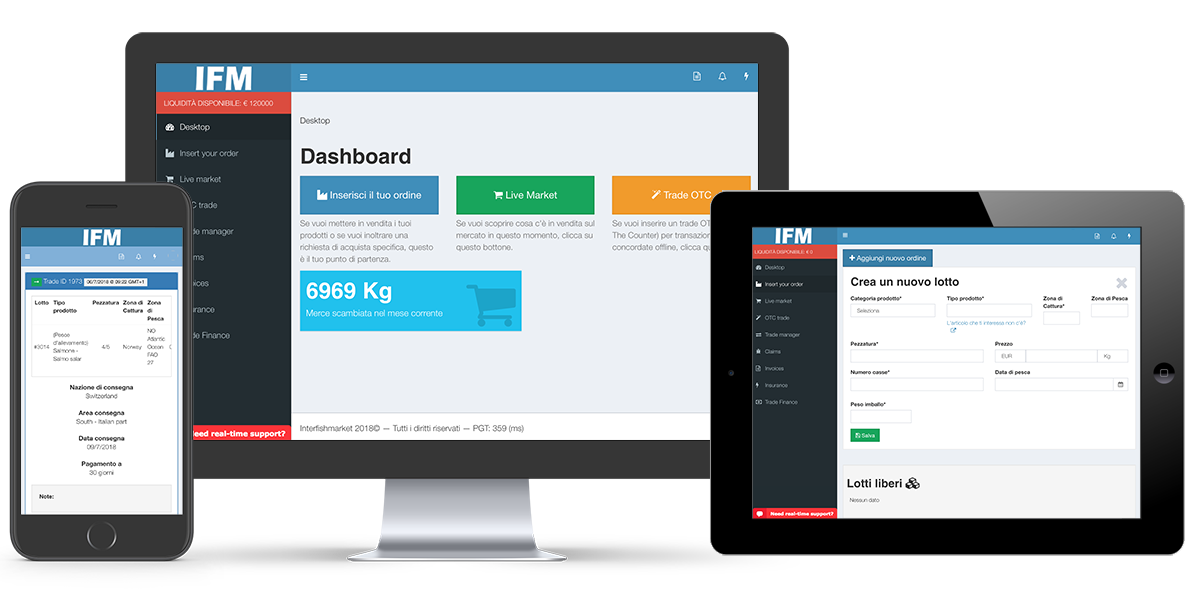 Promote products and image of your company all over the world

Buy and sell without having the risk of insolvency

Save time and effort to manage invoices and payments

Meet new customers and new suppliers and create new business opportunities
Furthermore you can choose: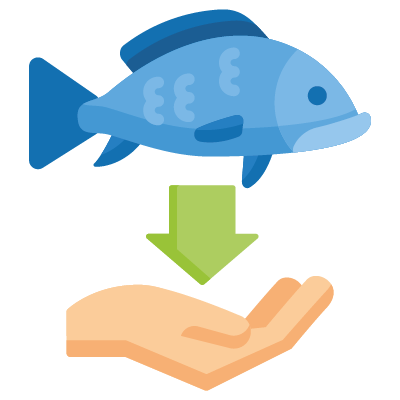 We pay your supplier and you choose when to pay

:
+7
days from the due date of the invoice
+15
days from the due date of the invoice
+30
days from the due date of the invoice
+45
days from the due date of the invoice
+60
days from the due date of the invoice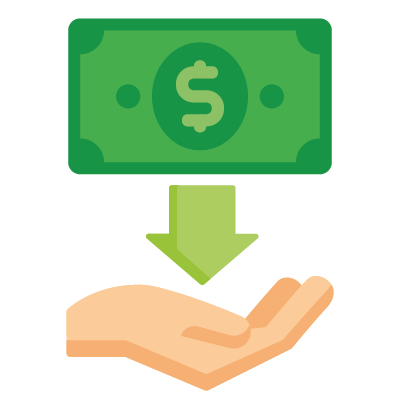 Receive your money directly from

whenever you prefer:
from the delivery of the goods
on the exact due date of you invoice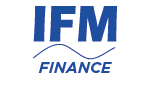 Our platform acts as a central counterpart so we can immediately pay your sales and further defer your purchases using credit insurance and the pool of lenders connected to us by eliminating the risk of insolvency for your company.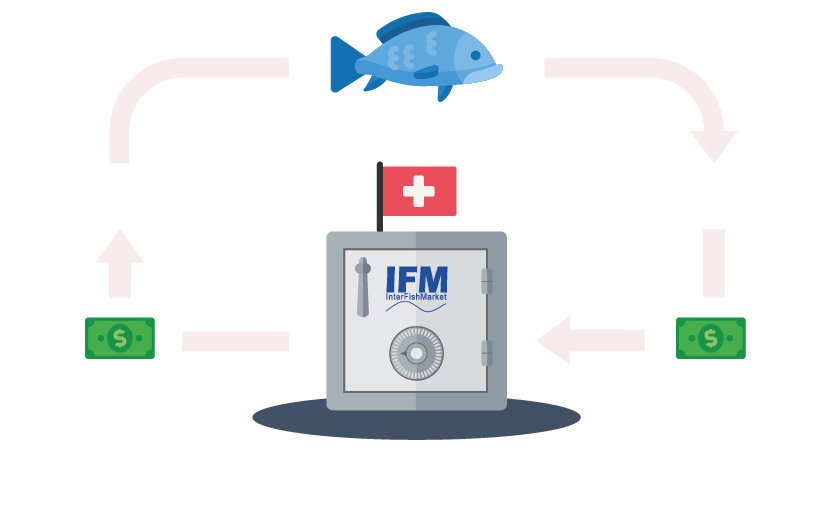 Who is it for?
Are you a seafood industry professional working in any of the following categories?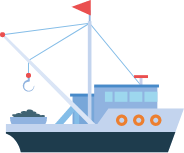 Producer / Farmers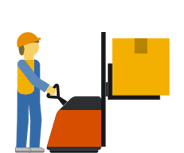 Wholesalers / Distributors
Retailer/Supermarkets operators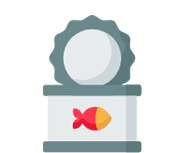 Processors / Industry
Start using InterFishMarket now!
Trading system
InterFishMarket is a neutral platform and and takes no position during transactions; the system works like the most famous e-commerce platforms. Our goal is to facilitate exchange activities in a transparent and efficient way between buyers and sellers all over the world, guaranteeing both parties. It is possible to execute transactions in two ways: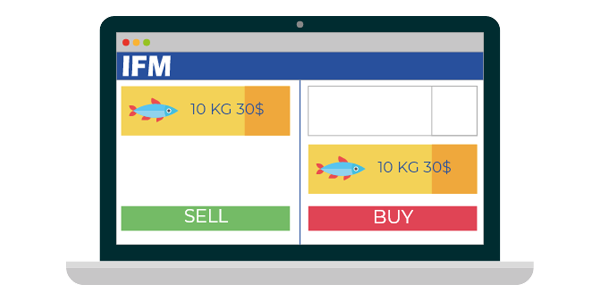 ONLINE TRADING - LIVE MARKET
1) Enter your sales or purchase order
2) Receive offers and close transactions on the platform
3) Enjoy the insurance and financial benefits that IFM offers you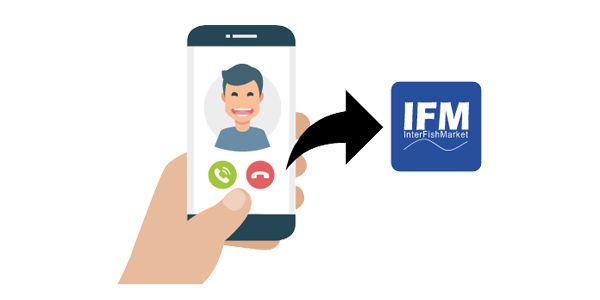 OFFLINE TRADING – OTC TRADE
1) Close your offline sales (as you do every day on the phone, e-mail or Skype.
2) Register your Trade on the IFM platform
3) Enjoy the insurance and financial benefits that IFM offers you
Other advantages of Interfishmarket
SMART CONTRACT
On the platform, sign purchase and sale contracts with legal value.
CERTIFIED DOCUMENTS
Always have the certainty of sending and receiving sales documents such as invoice, packing list or signed CMR.
SAVE TIME
Expiring invoices warnings and automated payment reminders, do not waste your time to track payments, we'll take care of everything!
INSURANCE CLAIMS
Do you have trouble with a payment?
No problem, no legal fulfillment, no document required: you just have to click, we do the job.
NO MINIMUM INSURANCE COST REQUIRED
The management is completely at our expense; our platform does not require any data for insurance purposes. You pay only if you use the service, not on an expected result.
SERVICE FLEXIBILITY
You can change the financial product requested at any time or even cancel it.
Some numbers about InterFishMarket
I use IFM platform for my trades, it's easy to use and full of useful tools and services. Furthermore, we had an issue with a non paying client, and after only 45 days from opening the claim, I received my money back directly from IFM. I can recommend the IFM platform, and the services provided by IFM team.
Robert Johansen
I would like to recommend everybody to use the IFM-Platform. The service is very good and the platform is easy to use and full of useful tools and services. If you have any hesitations, please don't hesitate to contact me and i will answer all your questions.
Eduard Paul Beek
We have been using IFM for over 1 year, we are very happy with how it works and with the new business opportunities it has provided us, even the insurance aspects have been tested by us and no problem.
Alen Callegari
INCLUDED FUNCTIONS:

Offer and demand

Product placement

Personal dashboard with document management

Live Market

OTC Trade

Access to the global marketplace

Credit insurance

Financial services

Guaranteed Support & Helpline
By signing up you can see how the platform works, its business potential and the trading offers available.
Only if you sell and / or buy, you will be charged a small commission based on the weight exchanged (you can consult the commissions table when you first access the platform).
FAQ
Subscribe for free, you will pay only and if you sell or buy, contact us for details.
IFM is the policyholder and the members of the platform are the beneficiaries. Every member knows the insurance credit granted to him.
Through the Live market you can sell and buy your products without revealing your identity, thus not affecting your normal market, every trade entered in LIVE MARKET remains visible for 15 days, if it is not bought or sold before.
They are the tool through which you can record your sales / purchases, made with the normal tools of every day, but that through the registration on the platform, get insurance coverage, financial services and all the other benefits offered by IFM.
Absolutely not. You can withdraw your offers at any time or ignore those received. The LIVE MARKET is a "attempted" sale that, if concluded, benefits from all the services and advantages offered byIFM including insurance and financial ones.
About InterFishMarket
The IFM team is born from the union of professionals with backgrounds ranging from the seafood industry to the financial sector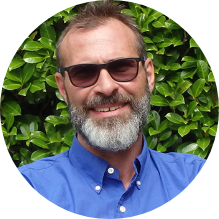 Head of Trading with over 20 years of experience in the seafood industry.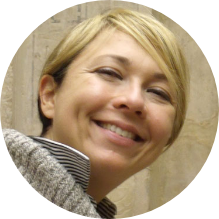 Backoffice manager with over 10 years experience in the insurance sector.
Do you want to work with us?
We are looking for agents or promoters ready to embark with us. Be part of our team of experts in the seafood industry! If you are interested send your CV to: info@interfishmarket.com